ADA Lawyer Update: California Supreme Court decision likely to fuel increased ADA litigation, but the Certified Access Specialists program (CASp) offers some protection

A step backward
In a decision that is likely to lead to more lawsuits filed under the Americans with Disabilities Act (ADA) and California's disabled access laws, the California Supreme Court unanimously ruled on June 12, 2009 that plaintiffs do not have to prove "intentional discrimination" to recover the $4,000 minimum statutory damages provided, per occurrence, under California's Unruh Civil Rights Act.

Background
The case, Munson v. Del Taco, Inc., stemmed from two seemingly inconsistent rulings in California on whether an ADA plaintiff must plead and prove "intentional discrimination" to recover the $4,000 minimum statutory damages under the Unruh Act, or — without such pleading and proof — they could recover only $1,000, under California's Disabled Person Act (DPA). While these figures don't sound too alarming, remember that many plaintiffs allege numerous occurrences of discrimination at one property, and claim damages for each occurrence.
The federal ADA prohibits businesses from denying disabled individuals equal access to any public facilities. Similarly, California's Unruh Act and DPA bar public businesses from discrimination based on disability, (among other classifications). Here's the difference: while the Unruh Act allows plaintiffs to collect actual damages (a minimum of $4,000 in statutory damages without sustaining any physical injury), the DPA allows only $1,000 minimum statutory damages per occurrence, and the ADA does not afford any monetary amount to private plaintiffs.
In 2004, The Ninth Circuit Court of Appeals in Lentini v California Center for the Arts ruled that ADA violations, whether or not they involved intentional discrimination, would qualify for damages under the Unruh Act. However, the 2006 California state appellate decision, Gunther v. Lin, asserted that the Lentini decision was incorrectly decided and that ADA plaintiffs must plead and prove intentional discrimination in order to recover the $4,000 minimum statutory damages for each and every offense under the Unruh Act. In light of the conflict between the state and federal courts, the Ninth Circuit Court of Appeals petitioned the California Supreme Court to interpret the standard for imposing Unruh Act minimum statutory damages. Munson v. Del Taco, Inc. resolves the inconsistent rulings of Lentini and Gunther by concluding that Lentini's interpretation was right–that a plaintiff "need not prove intentional discrimination in order to obtain damages." While the decision provides clarity, it could be troublesome for some California businesses, including hotel owners and operators.

Now, the good news
If there is a silver lining in the California Supreme Court's decision, it is that recent legislative changes under California SB1608, now part of California's Civil Code, were designed to curb abusive ADA litigation. Under SB1608, pure "testers" cannot recover damages simply because they identified technical access barriers that had no genuine impact on their full enjoyment of a business, (such as a hotel). The new law also creates a procedure for business owners to "certify" that their facilities meet state and federal accessibility standards.
The Certified Access Specialists program (CASp) certifies State of California experts in the field of ADA compliance and can offer certain litigation safeguards. Business owners that have initiated CASp certification have the option to stay or stop all ADA litigation and proceed to mediation. The primary benefit of staying litigation is to avoid expensive discovery and other proceedings which drive up legal fees. (This process generally has been in effect for ADA cases in the Northern and Southern District federal courts for years, and it is now available in other state and federal California courts.) To avail oneself of this stay, a hotel owner must file a motion to stay within 30 days of being served with the summons and complaint. An Early Evaluation Conference is to be set within 50 days from filing the request.
Under the Civil Code, a plaintiff can only recover damages against a CASp-certified property for violations actually encountered or violations which deterred the plaintiff from visiting the business on a particular occasion. Reasonable settlement offers by business owners, if rejected, are to be considered in determining any attorneys fees to be awarded the plaintiff.
Participating in the CASp program does not solve all problems with abusive ADA litigation but it is an important new step in that direction. As a practical matter, it is unlikely that plaintiffs or their attorneys will commence ADA litigation against a business knowing it is certified by the State of California as being compliant.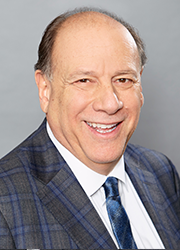 Martin H. Orlick is one of the top ADA defense lawyers in the country. He has helped hotels, restaurants, retailers, shopping centers, banks and other commercial property owners defend more than 600 ADA cases. In addition to defending lawsuits and governmental investigations, Marty's team of ADA specialists focuses on enterprise-wide ADA compliance and litigation prevention, including facilities, website and operational compliance. Marty is the Chair of JMBM's ADA Compliance & Defense Group, a Partner in JMBM's Real Estate Group, and a member of the American College of Real Estate Lawyers (ACREL). For more information about ADA compliance and defense, contact Marty Orlick at
415.984.9667
or
morlick@jmbm.com
.
---