Jim Butler, Chair of JMBM's Global Hospitality Group reports that many investors view our current economic downtime as the perfect opportunity to purchase distressed hotel and motel assets at substantial discounts. Before any of these investors complete a purchase transaction, however, they should add one more item to their due diligence checklist: whether the hotel's physical property and operating procedures comply with the Americans with Disabilities Act (ADA), and similar state statues.
Hotel Buyer Beware: When you buy a hotel, don't buy an ADA lawsuit

The current legal landscape of ADA enforcement
Private plaintiff lawsuits:
The last decade has seen an explosion of private plaintiff lawsuits, including class actions and actions against individual hotels (and other properties classified as "public accommodations"), alleging violations of the ADA. In states like California where ADA plaintiffs can recover actual, punitive and statutory damages, individual plaintiffs of the "sue-and settle" variety have filed thousands of lawsuits claiming nearly identical violations at numerous locations.
DOJ investigations:
In addition to private plaintiff lawsuits, the United States Department of Justice also has actively sought to enforce the ADA in the form of individual property investigations, geographical sweeps, and system-wide investigations.
Individual property investigations. A DOJ investigation of an individual property often begins with a guest complaint at a particular hotel which is ignored or poorly handled by the owner or operator. Matters commonly escalate if the guest files a formal ADA complaint with the DOJ's Civil Rights Division. All complaints are actively investigated.
Geographic sweeps. The DOJ has also instituted geographical "sweeps" such as the New York Times Square/Theater District investigations from several years ago. This comprehensive ADA investigation of 60 Times Square hotels – including boutique hotels and international flag properties – was initiated after a single guest's complaint. It was a targeted investigation.
System-wide investigations. The DOJ has also initiated a number of system-wide investigations against the nation's leading hotels and retailers. Over the years, the DOJ has litigated or otherwise negotiated Consent Orders or Decrees with other prominent hotel flags such as Ramada Ltd. (2010), Days Inns of America, Inc. (1999), Marriott International, Inc., Courtyard Management Corporation (1996), Motel 6 Operating LP (2004 and 2007) and Bass Hotels and Resorts (1998). In November 2010, the DOJ and Hilton Worldwide, Inc. entered into a 45-page "comprehensive precedent-setting agreement under the ADA that will make state-of-the-art accessibility changes to approximately 900 hotels nationwide."
What it means to hotel investors
The current legal landscape has created a new reality for investors. It is very possible for an investor, when purchasing a hotel or motel, to buy itself an ADA lawsuit. The property may contain architectural barriers that violate the ADA and may give rise to a private plaintiff lawsuit and/or a complaint to the DOJ that leads to a DOJ investigation. The policies and procedures of the hotel operation may also be in violation of the ADA. (Procedures would include items such as online and third-party reservations, how to deal with service animals or how to ensure that the number of guest rooms which must be fully accessible are available.) It is also possible the hotel may be currently under investigation by the DOJ, or is currently the subject of an ADA lawsuit. We are currently representing two buyers, including a foreclosure buyer who inherited a DOJ Consent Order or investigation.
Moreover, substantial revisions to the Americans with Disabilities Act Accessibility Guidelines (ADAAG) were included in the DOJ's revised 2010 regulations that implement the ADA. These new regulations go into effect on March 15, 2011 (with certain exceptions, and those go into effect on March 15, 2012). The new 2010 standards impose both technical requirements, (e.g. the specifications a property must meet to be fully accessible), and scoping requirements (e.g. the number of rooms or elements in a facility which must be fully accessible). It is possible that a hotel that has been in compliance with the ADA in the past, will not be in compliance in the near future.
It is imperative that an investor protect itself before completing a purchase transaction, by performing due diligence in this area. For example, if potential ADA violations exist, the investor can either require that the seller correct the problems as a condition of closing, obtain an estimate for the barrier removal and demand from the seller a credit in escrow or to reduce the purchase price accordingly. Prior to completing a purchase, the investor should consider performing due diligence in three broad areas:
• Legal. Determine whether the property is being investigated by the DOJ or if there are existing ADA lawsuits against the owner or operator;
• Architectural. Retain an ADA consultant to survey the property and determine whether architectural barriers exist; and
• Operational. Determine whether the hotel's operator has effective policies and procedures for serving disabled guests.
If the property is in California, the investor can also seek protection under California's 2009 Construction-Related Accessibility Standards Compliance Act which is designed to curb abusive ADA litigation through the Certified Access Specialist program (CASp). CASp enables business to go through a process to "certify" that their facilities meet state and federal accessibility standards. One benefit CASp offers is that business owners with certification have the option to stay or stop all construction-related ADA litigation initiated against them in state court, and instead proceed to mediation, making it possible to avoid expensive and lengthy proceedings that drive up legal fees.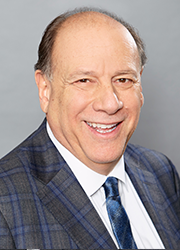 Martin H. Orlick is one of the top ADA defense lawyers in the country. He has helped hotels, restaurants, retailers, shopping centers, banks and other commercial property owners defend more than 600 ADA cases. In addition to defending lawsuits and governmental investigations, Marty's team of ADA specialists focuses on enterprise-wide ADA compliance and litigation prevention, including facilities, website and operational compliance. Marty is the Chair of JMBM's ADA Compliance & Defense Group, a Partner in JMBM's Real Estate Group, and a member of the American College of Real Estate Lawyers (ACREL). For more information about ADA compliance and defense, contact Marty Orlick at
415.984.9667
or
morlick@jmbm.com
.
---