Since January 2005, 16,530 lawsuits alleging violations of the Americans with Disabilities Act ("ADA") have been filed in federal courts across the country. More of these lawsuits were filed in California than in any other state. Some believe that California is a hotbed of ADA litigation because California law awards damages and attorneys' fees to private plaintiffs for defendant's ADA violations — treble damages, with minimum statutory damages of $4,000 (prior to the passing of this Senate Bill), and punitive damages. An unknown number of accessibility cases have been filed in California state courts, and countless more claims have been threatened against mostly small business owners.
Past efforts to curtail ADA litigation abuse in California have been marginally successful. Unfortunately, the latest California legislation (SB 1186) may also provide limited relief from abusive ADA litigation. Key provisions of the new law became effective January 1, 2013. California SB 1186, through comprehensive amendments to a number of California laws, including provisions of the California Civil Code (Sections 55.3 et seq.), was intended to provide protection for the owners and operators of public accommodations who are making a good faith effort to comply with the ADA.
An overview of the main provisions of the new California law and our ADA Defense Lawyer observations "from the trenches" regarding the new law follows.
SB 1186 Provision
JMBM
ADA Defense Lawyer observation
1
Allows specified defendants to request a stay of court proceedings and an early evaluation conference. These defendants and their projects must meet certain requirements, such as (A) were approved pursuant to the local building permit and inspection process, (B) were approved by a local public building department inspector who is a CASp certified specialist, and (C) meet the definition of a "small business" provided in the Code.
At this time, California State Courts do not have adequate resources or a plan in place to handle the numerous requests for stays and early evaluation conferences that may arise. It is not clear whether Federal Courts will give any weight to the changes in California law.With respect to clause (B), we, on the defense side, have been arguing for years that a building owner or tenant should be able to rely on the local building department's plan check, building permit, inspections and the issued Certificate of Occupancy. However, Courts have been reluctant to follow such a rule.
Until 2008, there were no requirements that building departments have a CASp certified building inspector on staff. The first building officials became CASp certified in mid-2009. Generally, however, building owners and tenants should not assume that building department sign-off on construction necessarily means that their property is ADA-compliant.
2
Reduces minimum statutory damages from $4,000 per offense to $1,000 per offense with respect to those defendants that satisfy clause (A) or (B) of the paragraph above, if all violations that have been identified in the complaint are brought into compliance with the ADA within 60 days after a business owner is served with a summons and complaint. A small business, as defined, that does not meet the foregoing requirements, may still have damages reduced to $2,000 if the violations are addressed within 30 days of service.
The reduction in minimum statutory damages has not yet caused plaintiff's lawyers to reduce their damage claims, but the changes to the law are recent.Some ADA violations cannot reasonably be addressed in 30 or 60 days, as applicable (particularly if architectural drawings, permits and construction contracts are necessary), and in such cases, the reduction of the minimum statutory damages may be illusory.
3
Requires commercial property owners to include a statement in any rental agreement executed after July 1, 2013 as to whether the subject property has undergone inspection by a certified access specialist.
Requires commercial property owners to include a statement in any rental agreement executed after July 1, 2013 as to whether the subject property has undergone inspection by a certified access specialist.
4
Requires that the Court consider the reasonableness of the plaintiff's conduct in connection with "stacked claims" (where a plaintiff visits the same property repeatedly to file multiple claims for the same violation), particularly in light of the plaintiff's obligations to mitigate damages, if any. Furthermore, multiple claimed violations of the ADA may now be considered to be one violation depending on the circumstances.
We are hopeful that this provision will result in a reduction of damages, but we have not yet realized any benefit from this new requirement.
5
Bans "pre-litigation demand letters" in which plaintiffs seek a specific amount of money without actually filing a lawsuit. Specifically, a demand letter may offer pre-litigation settlement negotiations, but shall not state any specific potential monetary liability for any asserted claim or claims, and may only state: "The property owner or tenant, or both, may be civilly liable for actual and statutory damages for a violation of a construction-related accessibility requirement."Furthermore, under SB 1186, an attorney must provide a written advisory, which must also include statutory language and his or her State Bar license number, that includes sufficient detail to allow a reasonable business owner to identify the basis of the claim, and a copy must be sent to the California Commission on Disability Access and, until January 1, 2016, to the California State Bar. Any attorney violates these requirements may be subject to discipline by the California State Bar.
In the past, demand letters often have requested a payment to avoid costly litigation. Some do not even request that the property in question correct the alleged violation.So far, we are finding that this requirement is only postponing the demands for money until after litigation has been filed. It has not seemed to have any effect on the number of claims.
6
Requires that any complaint based on a construction-related accessibility claim must be verified by the plaintiff under oath. Until January 1, 2016, an attorney must submit a copy of the verified complaint to the Commission.
Requires that any complaint based on a construction-related accessibility claim must be verified by the plaintiff under oath. Until January 1, 2016, an attorney must submit a copy of the verified complaint to the Commission.
7
Increases business license fees to fund the enhancement of the State's certified access specialist program.
A sign of the times.
Overall evaluation of California law changes
SB 1186 did not go as far as some wanted. Many businesses were advocating a restriction on litigation until after a potential defendant had been given a reasonable time to correct alleged violations (which would have provided similar protections to those provided under other legislation (SB 800), which helped to curb the abuse of construction defect litigation against condominium developers). However, SB 1186 did not provide this protection.
Experienced plaintiff's attorneys have already figured out how to work within the boundaries of or circumvent the new law. It does not appear to be slowing the onslaught of lawsuits.
From our perspective, if and when the Court system is equipped to handle the additional burden imposed by SB 1186, the most important benefit of the new law may be the ability of a defendant to petition the state Court to stay proceedings and order an early evaluation conference before meaningful attorney's fees have been incurred. It is harder to come to a reasonable settlement when significant legal fees have been run up by both sides.
Ultimately, the best protection is to secure a CASp certified survey under the supervision of an experienced ADA attorney and to correct any violations under the ADA that are identified in that survey (if and to the extent that such correction is required under applicable law).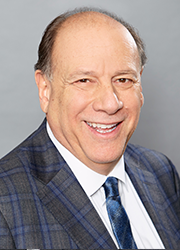 Martin H. Orlick is one of the top ADA defense lawyers in the country. He has helped hotels, restaurants, retailers, shopping centers, banks and other commercial property owners defend more than 600 ADA cases. In addition to defending lawsuits and governmental investigations, Marty's team of ADA specialists focuses on enterprise-wide ADA compliance and litigation prevention, including facilities, website and operational compliance. Marty is the Chair of JMBM's ADA Compliance & Defense Group, a Partner in JMBM's Real Estate Group, and a member of the American College of Real Estate Lawyers (ACREL). For more information about ADA compliance and defense, contact Marty Orlick at
415.984.9667
or
morlick@jmbm.com
.
---