On November 9, 2010, the U.S. Department of Justice's Civil Rights Division (DOJ) and Hilton Worldwide, Inc. (Hilton) announced that they entered into a 45-page "comprehensive precedent-setting agreement under the Americans with Disabilities Act of 1990 (ADA) that will make state-of-the-art accessibility changes to approximately 900 hotels nationwide."
More than the usual removal of architectural barriers, the changes include providing disabled guests the same room choices as other guests, guaranteeing accessible rooms will be available when they have been reserved, and making the central Internet reservation system more accessible. The agreement includes not only Hilton-owned properties, but properties where Hilton is the manager or franchisor.
The lawsuit was filed after the DOJ completed ADA surveys of 13 Hilton-related hotels. Hilton denied all allegations, but cooperated with DOJ investigators throughout the extended investigation and agreed to pay a $50,000 civil penalty.
Background of lawsuit
The Court-approved Consent Decree and Final Judgment resolved the lawsuit United States of America v. Hilton Worldwide, Inc., filed in the United States District Court for the District of Columbia. The lawsuit alleges that Hilton, Conrad Hotels and Resorts, Doubletree, Embassy Suites, Hampton Inn, Hampton Garden Inn, Hilton Grand Vacations, Homewood Suites, the Waldorf Astoria, the Waldorf Astoria Collection and Home2Suites by Hilton have policies, practices and procedures which discriminate against individuals with disabilities.
The lawsuit also alleges that Hilton either owns, manages, or enters into franchise license agreements with the owners of hotels that failed to design and construct facilities built after January 26, 1993, (the date the ADA was fully effective), that were in compliance with the "new construction standards" of the ADA. The DOJ focused on hotels built after the 1993 date because those properties were required to be constructed without any access barriers. This strategy enabled the DOJ to avoid the more complex litigation issues involved in "readily achievable barrier removal" that is required of properties built prior to 1993.
The Complaint alleged that hotels were designed and built without the federally mandated number of accessible guestrooms dispersed among the different categories of available accommodations (suites, deluxe rooms, view rooms, etc.).
Complaints, sweeps, and system-wide investigations
Typically, a DOJ hotel investigation begins with a guest complaint at a particular hotel which is ignored or poorly handled by the owner or operator. Matters commonly escalate if the guest files a formal ADA complaint with the DOJ's Civil Rights Division. All complaints are investigated.
The DOJ may also institute geographical "sweeps" such as the New York Times Square/Theater District investigations that took place several years ago. This comprehensive ADA investigation of 60 Times Square hotels — including boutique hotels and international flag properties — was initiated after a single guest's complaint. A similar sweep of apartment complexes took place in Louisville, Kentucky.
The DOJ has also initiated a number of system-wide investigations against the nation's leading hotels and retailers. Over the years, the DOJ has litigated or otherwise negotiated Consent Decrees with such prominent hotel flags as Ramada Ltd. (2010), Days Inns of America, Inc. (1999), Marriott International, Inc., Courtyard Management Corporation (1996), Motel 6 Operating LP (2004 and 2007) and Bass Hotels and Resorts (1998).
Accessible reservation systems and policies
While the alleged architectural barriers are commonplace in ADA hotel litigation, the inclusion of online and telephonic reservations systems in is one reason the agreement is viewed as "precedent-setting." The Consent Order requires Hilton's on-line reservations system to become accessible and its website to provide timely information about the accessible elements in its hotels.
The DOJ accused Hilton of failing "to provide individuals with disabilities the same opportunity to reserve accessible guestrooms using its on-line and telephonic reservations systems that are available for reserving other Hilton Hotel rooms." Specifically, the DOJ alleged that guests with disabilities are unable to reserve specific types of accessible sleeping accommodations through the Hilton Reservations and Customer Care system, in violation of the ADA. It also alleged that Hilton's central reservations system does not ensure that disabled guests receive the accessible accommodations they reserve — that upon arrival, disabled guests may not be provided with the accessible sleeping accommodations they reserved, such as a particular room type, a room with a tub or roll-in shower, or a visual alarm for deaf or hard-of-hearing individuals.
Guests will soon be able to reserve and be assured of booking specific types of accessible guestrooms with specific features. Hilton must offer disabled guests free upgrades in a more expensive room class, if available, if the reserved accessible guestroom is unavailable at registration. Hilton will revamp its website to provide access to guests who are blind or of low vision
Franchisor liability for ADA compliance
Another groundbreaking aspect of the case is that the Consent Order is the first time Main Justice has compelled a franchisor to require all franchisees and all properties under Hilton's management and control, to survey their facilities for ADA compliance and to either certify that each property is ADA compliant, or bring them into compliance. Historically, franchisors which merely license their brands, products and know-how — but do not actually build or operate the facilities — have not been held liable under the ADA for the acts or omissions of their franchisees.
The DOJ alleged that, as franchisor, Hilton was substantially involved in the design and construction of its owned, managed and franchised hotels and that these properties are not readily accessible to and usable by individuals with disabilities, as required by Title III of the ADA.
At a high level, the Consent Decree requires Hilton and its franchisees to survey their properties within 12 months after the Consent Decree is effective and bring them into ADA compliance. When Hilton enters into new franchise or management agreements, renews or extends old ones, the owners will be required to survey their facilities, and if necessary, bring them into ADA compliance. They must offer a variety of accessible room types (including at least one suite), provide premium views, assure the required number of guestrooms are available (including those with roll-in showers and permanent or removable tub seats), and provide accessible guestrooms for deaf and hard-of-hearing patrons.
The generally accepted legal standard has been that a franchisor cannot be held liable under Section 303 of the ADA unless it owns, leases or operates the franchised hotels or retail stores. The two leading cases involved Days Inns of America, Inc. and American Dairy Queen Corporation, and those courts held that a franchisor's right under a franchise agreement to set operating and brand standards for building, equipment or quality control does not make it an "operator." All that may be changing, in light of Hilton's Consent Order.
Ongoing ADA compliance and training
Consistent with many chain-wide Consent Orders, Hilton must hire a national ADA Compliance Coordinator to carry out the mandates of the Consent Order. Each property is required to train a point-person to resolve accessibility complaints. Hilton is also to select an "ADA Inspector" to verify compliance.
ADA training will be mandatory for all staff, whose essential jobs require them to interact with guests. Front desk employees, general managers and chief building engineers will undergo additional training regarding assignment of accessible guestrooms, emergency procedures, policy changes, maintenance of accessible features, use of all accessible features and communications equipment.
Moving forward
The U.S. Department of Justice's Civil Rights Division is aggressively enforcing the Americans with Disabilities Act of 1990 . The DOJ has focused particularly on national and regional hotel chains, individual hotels, national retailers, apartment complexes and transportation facilities. Unlike some private plaintiff's lawyers that we regularly encounter, DOJ lawyers are dedicated, skillful and committed to just one aim: to provide full and equal access to public accommodations, nationally.
Although the DOJ is authorized by statute to file litigation to enforce the ADA and to seek money damages, its lawyers are primarily motivated to obtain barrier removal. Seeking money damages is secondary, if an issue at all.
The DOJ has obtained Consent Orders against such prominent hotels as New York New-York Hotel and Casino, LLC (2001), the Ocean Palms Beach Resort (2009), Sheraton Grand Sacramento Hotel (2010), Crown Plaza Times Hotel (2010) and Norwegian Cruise Line (2010). Consent Orders have also been obtained against such prominent retailers and restaurants such as AMC Entertainment, Inc. (2010), Blockbuster, Inc. (2010), Wal-Mart Stores, Inc. (2009), Sylvan Learning Centers, L.L.C. (2007), Shoney's LLC (2006), Sunoco, Inc. (2005), and Safeway, Inc. (2004).
The Hilton case highlights the fact that the DOJ is not only laser focused on architectural barriers in hotels, but it is equally focused on the new ADA frontier – "cyberaccessibility". The case also suggests that it's a whole new ballgame when it comes to franchisor liability for ADA compliance, and companies with franchised properties will need to rethink their exposure in this area and develop strategies to ensure ADA compliance.
We at JMBM are experienced in representing hotels in DOJ investigations. Our experience with DOJ attorneys is that they are very straightforward and fair-minded in their approach, and very serious in their relentless pursuit of achieving full and equal access for the disabled.
The DOJ wants to assure — system wide and nationwide — when individuals with disabilities check into a hotel, they will receive the accessible features they need to enjoy a good night's sleep. Our job as ADA lawyers is to make sure our clients enjoy a good night's sleep, too, by achieving a high level of compliance with the ADA, and working successfully with the DOJ to make that happen, when necessary.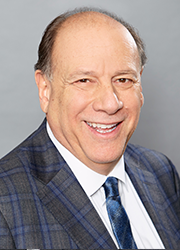 Martin H. Orlick is one of the top ADA defense lawyers in the country. He has helped hotels, restaurants, retailers, shopping centers, banks and other commercial property owners defend more than 600 ADA cases. In addition to defending lawsuits and governmental investigations, Marty's team of ADA specialists focuses on enterprise-wide ADA compliance and litigation prevention, including facilities, website and operational compliance. Marty is the Chair of JMBM's ADA Compliance & Defense Group, a Partner in JMBM's Real Estate Group, and a member of the American College of Real Estate Lawyers (ACREL). For more information about ADA compliance and defense, contact Marty Orlick at
415.984.9667
or
morlick@jmbm.com
.
---