Service animals are not pets
According to the law, service animals are not pets. Whether your hotel is "pet friendly" or a "no pets" establishment does not affect your obligation to treat disabled guests with service animals like all other guests: they are to be provided the same services and access to all areas of the hotel's property that other guests are allowed such as pool areas, laundries, business centers, lobbies, restaurants and so on. Health codes that prohibit animals in restaurants do not apply to service animals.
Many states, such as California, recognize "service canines," such as sight or guide dogs, signal dogs and seizure alert dogs. But under the ADA, which is enforced throughout the 50 U.S. states, the definition of "service animals" includes any kind of animal individually trained to provide assistance. Service monkeys have been encountered and can provide legitimate services to the disabled. But the potential for abusing the "service animals" designation is obvious, so what can hotel staff do?
Marty's advice is this: if a hotel guest says that he or she is disabled and the animal is a service animal, your hotel staff should be trained to check the guest in and ask if they need any additional assistance. Staff can ask the potential guest what kind of assistance the animal provides, but that is all. Staff can neither ask the individual to prove their disability nor inquire about the nature of the person's disability. (Some disabilities are "invisible" such as seizures and hearing impairment.) Staff cannot demand any certification or proof that the animal is a "service animal." Further inquiry on the subject can embarrass your disabled guests and open your establishment to potential liability.
What if the service animal causes problems?
If other guests complain of the mere presence of the service animal, your staff should explain the law requires hotels to welcome disabled guests and their service animals. If the service animal becomes unreasonably disruptive or threatening, the animal's owner — not the hotel — is responsible for controlling the animal. Service animals are specifically trained to act appropriately around people. They are not dangerous, and are usually quite tidy. However, if the service animal becomes dangerous or disruptive, hotel staff can remove the animal. The hotel guest, of course, should be welcome to stay at the hotel without the animal.
Hotels cannot impose a separate charge or cleaning deposit for service animals, even if it generally charges for pets. However, like any other guest, the animal's owner is responsible for supervising and caring for it. The disabled guest is responsible for cleaning up after their service animal, protecting the public from vicious animals, and paying to repair any damage to the property caused by their animal.
Yapping Dog Has Its Day in Court
In May 2004, the 9th Circuit handed down a decision that has set a precedent for the treatment of disruptive service animals (Lentini v. California Center for the Arts). In this case, a performing arts center tried to bar a disabled patron and her yapping dog from attending a concert performance because the dog allegedly had been previously disruptive. (This particular service animal yapped to warn the owner of people in close proximity.) When the disabled patron refused to leave the Center with her service animal, she was threatened with arrest.
The Court ruled that the Center had to modify its policies to allow the disabled patron to attend performances with a service animal even though it may have made disruptive noises at past performances, because such behavior would have been acceptable if engaged in by humans (although a spoken warning, not a barking one!). Humans certainly can scream out "Fire" if there is one. So, too, can a service animal alert its disabled owner to potential danger.
The Center unsuccessfully argued the admission of the service animal would fundamentally alter the nature of their service by disrupting the performance. However, the Court found the Center failed to prove the dog's yapping would necessarily be disruptive. Thus, the Court recognized under certain circumstances where the animal was disruptive, unrelated to its service function, it could be removed or excluded.
(To make matters worse for the Center in this case, the Center's manager and another employee had lied about the incident — there were no complaints from patrons. The Center and its two employees were ordered to pay monetary damages to the plaintiff.)
Educating Your Hotel Staff
The California Hotel and Lodging Association (CH&LA) with the help of the American Hotel and Lodging Association and America Express, has launched a national campaign to teach people in the hospitality industry how to provide service to disabled guests who depend on service animals for assistance. My friend, Jim Abrams, President and CEO of the CH&LA points out that welcoming disabled guests and their service animals into your hotel is the law — but it is also the right thing to do. The CH&LA has produced helpful pamphlets and a video that address commonly encountered issues regarding service animals in hotels. The pamphlet can be accessed, and the video viewed, by visiting the CH&LA's website at http://www.calodging.com/products/service_animals.shtml
Jim Abrams and Marty Orlick agree that hotel management must ensure that hotel employees are properly educated about service animals. A carefully drawn policy for dealing with disabled guests and their service animals, backed up by good training of hotel employees, can help avoid embarrassing encounters for disabled guests and expensive litigation for hotel owners.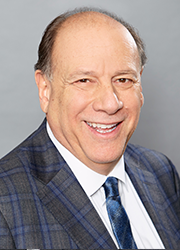 Martin H. Orlick is one of the top ADA defense lawyers in the country. He has helped hotels, restaurants, retailers, shopping centers, banks and other commercial property owners defend more than 600 ADA cases. In addition to defending lawsuits and governmental investigations, Marty's team of ADA specialists focuses on enterprise-wide ADA compliance and litigation prevention, including facilities, website and operational compliance. Marty is the Chair of JMBM's ADA Compliance & Defense Group, a Partner in JMBM's Real Estate Group, and a member of the American College of Real Estate Lawyers (ACREL). For more information about ADA compliance and defense, contact Marty Orlick at
415.984.9667
or
morlick@jmbm.com
.