The prevailing wisdom in Americans with Disabilities Act litigation is that defendants who successfully prevail in ADA and Unruh Civil Rights Act lawsuits cannot recover their attorneys' fees or defense costs. This prevailing wisdom compels most businesses to settle, rather than pursue a meritless case to summary judgment or trial. The tide may just be changing as more courts are awarding successful defendants their attorney's fees and defense costs.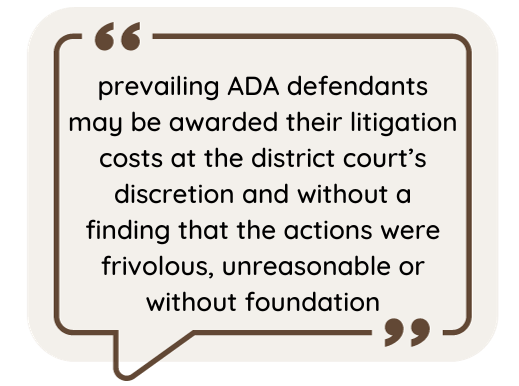 As we recently posted, a JMBM client was awarded over $100,000 in attorneys' fees and costs in two separate cases. The first award of fees and costs was against high frequency litigant Orlando Garcia, and the second award was against the law firm representing him, the Center for Disability Access. Garcia and the Center for Disability Access appealed the awards; however, our clients will nevertheless seek to enforce the judgments pending the appeals.
In a separate case earlier this month, the 9th Circuit Court of Appeals affirmed the trial court's award of litigation costs in favor of Gateway Hotel LP, finding that the trial court did not abuse its discretion when it awarded the hotel the costs it incurred in successfully defending Garcia's ADA lawsuit. See Garcia vs. Gateway Hotel LP (9TH Cir. 21-55926 9/15/23).
Federal Rule of Civil Procedure 54(d)(1) gives courts the discretion to award costs to a prevailing defendant. The Garcia decision clarified the circumstances under which a defendant may be awarded costs in an action brought under the ADA. The case involved allegations that the hotel's website reservation policies and practices violated Section 302(e) of the 2010 Americans with Disabilities Act Standards by not adequately informing guests of the hotel's accessibility features, even though numerous courts rejected those very arguments.
The Court of Appeals concluded that the fee-and cost-shifting provision of the ADA (requiring defendant businesses to pay the plaintiff's fees and costs) provides that a "prevailing ADA defendant may be awarded its costs at the district court's discretion and without a finding that the action was frivolous, unreasonable or without foundation."
Our experience is that under certain circumstances, courts will award defense costs to prevailing defendants without a finding that the litigation was frivolous or vexatious. Courts may also award prevailing defendants their attorney's fees if it is proven that the litigation was frivolous or vexing.
For more on this issue, please reach out to Martin H. Orlick at MOrlick@jmbm.com.
JMBM's Americans with Disabilities Act Compliance and Defense team has helped hundreds of business owners and operators nationwide to achieve enterprise-wide compliance with the ADA as well as state and local disability codes, and defends them in ADA lawsuits and Department of Justice proceedings. With one of the most active ADA defense practices in the country, we have defended more than 1,000 ADA and related accessibility claims for clients, ranging from single-property family-owned businesses to Fortune 100 companies with extensive real estate portfolios across the nation.
Martin H. Orlick is one of the top ADA defense lawyers in the country. He has helped hotels, restaurants, retailers, shopping centers, banks and other commercial property owners defend more than 1,000 ADA cases. In addition to defending lawsuits and governmental investigations, Marty's team of ADA specialists focuses on enterprise-wide ADA compliance and litigation prevention, including facilities, website and operational compliance. Marty Chairs JMBM's ADA Compliance & Defense Group, a Partner in JMBM's Real Estate Group, and a member of the American College of Real Estate Lawyers (ACREL). For more information about ADA compliance and defense, contact Marty Orlick at 415.984.9667 or morlick@jmbm.com.